Last year, I posted a puzzle page about BIG JIG's Famous London Scenes 'Market' series, produced in the 1950s by a company called Good-Win. There were four London Markets to collect:
No's 5, 6, and 7 which were the speciality / indoor markets - Smithfield (meat), Covent Garden (fruit, vegetables and flowers), Billingsgate (fish), and the only outdoor street market in the series, No. 8 Petticoat Lane (clothing, crockery, bric-a-brac etc).
My first memories of 'the Lane' go back to the early 1970's, when Sunday mornings were pretty much like the busy scene captured by '
nevin
', the artist of these Big Jig jigsaws. I wonder if his intention was to pick out this stretch of Middlesex Street for the puzzle image? Much of the area back then was still very Victorian in character, but there was 'Commerce and Industry House', a distinctive art deco-style office block built in 1934. Even at the time this jigsaw was sold, the building offered the rough and tumble market days at the Lane a hint of modernity...
Over 400 Pieces
The designer of Commerce House was Hume Victor Kerr, who in 1934 also created another iconic modernist building in the area called Gwynne House, a residential block in Turner Street, Whitechapel. For as long as I can recall, these flats offered subsidised housing to nurses and trainee doctors at the nearby London Hospital. But no more. Gwynne House has recently been 'regenerated' into yet another set of pricey private apartments in 21st Century London..
However, Commerce House never got to see in the fashionable era of the locality. It was demolished sometime around 1990 - and nobody back then seemed to notice. But it lives on in The Big Jig, old photographs, and in the memories of those who worked there, and who traded and haggled in front of the stylish facade for over 50 years...
Commerce House to the left, and a bustling Lane c.early 60's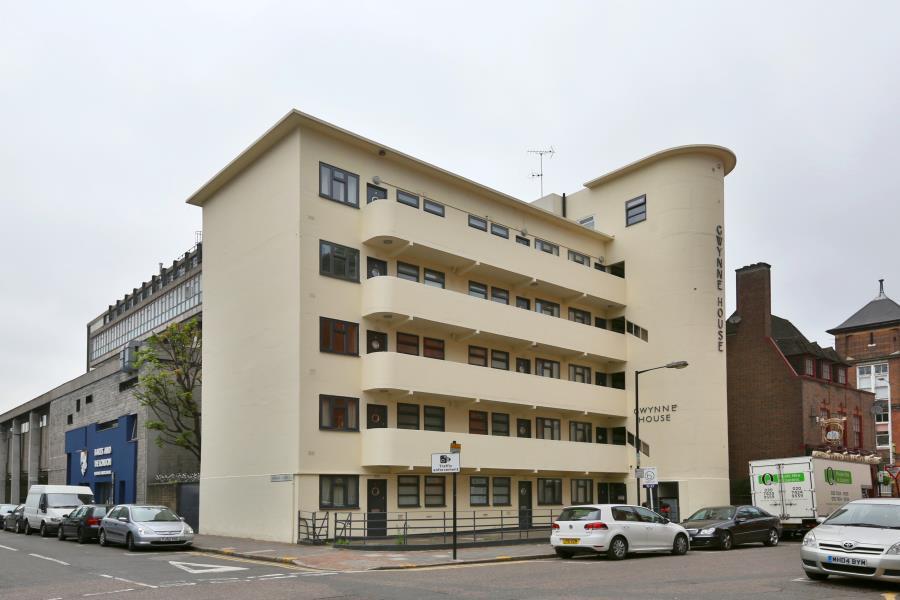 Gwynne House - the sales blurb says "a unique opportunity to reside in modernistic art deco style"
'1 Piece Missing' written in ballpoint by a previous owner
not these ones though